Website Design for Tourism Businesses in Australia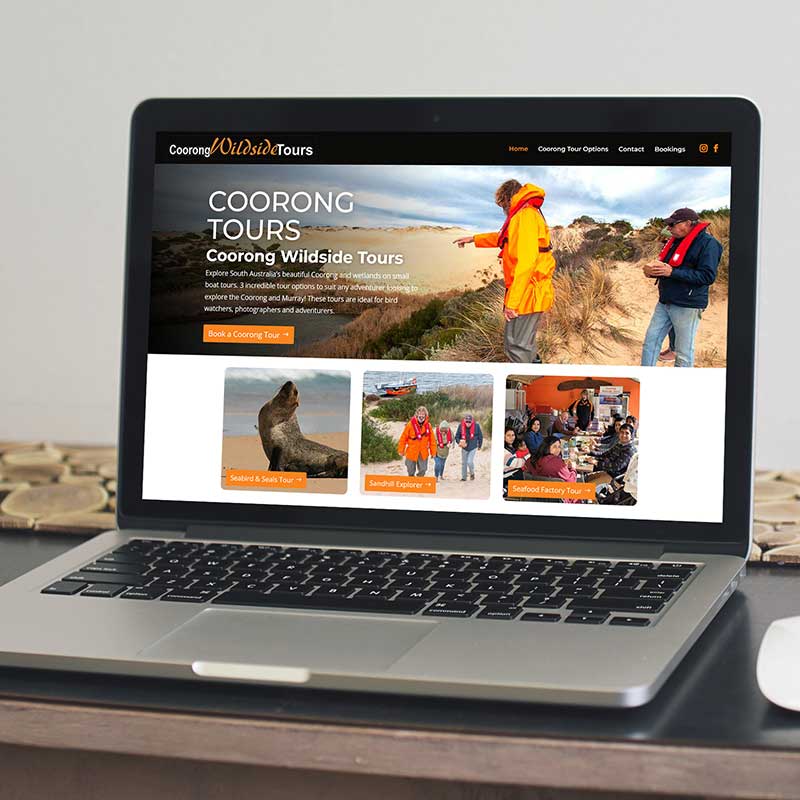 Wildlife Tourism Marketing
Offering Brand Identity, Website Design, Organic SEO, Copywriting, Photography and Tourism Adverts for Australian Wildlife-focused businesses.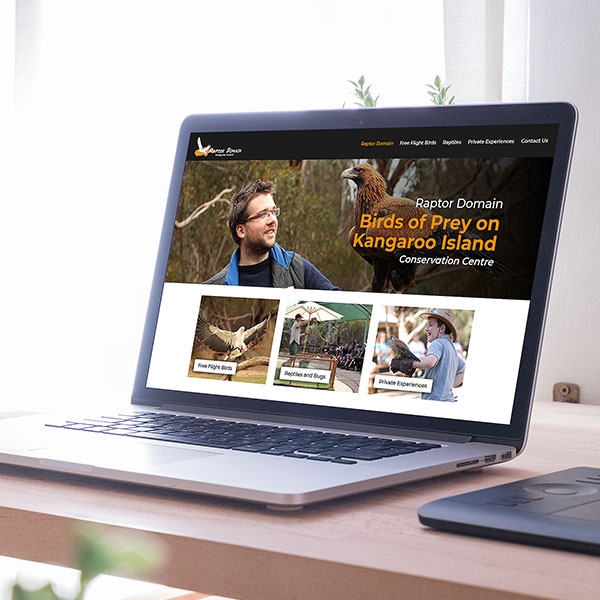 Creating a tourism business website is very different from creating any other type of website. Each website has a different goal and having created websites for dozens of wildlife businesses and tourism brand's websites in Australia, I have expertise needed to create an effective website that converts to paying customeres.
So how is a tourism website different?
Each tourism business will have different requirements for their website however a lot of principles are the same. The first step involved is to understand what you service is and what makes your specific experience different to your competitors. After this, you need to understand who your target audience is, and no, "everyone" is not a target audience.
Thirdly, you need to develop a strategy for the website that ;
Gets your target audience to visit your tourism website
Ensure your website visitors understand what you offer and why you are better than your competitiors
Deliver the information needed to have them create an informed decision on your offering
Quickly convert them to purchasing a ticket, entry fee, subscription, product, etc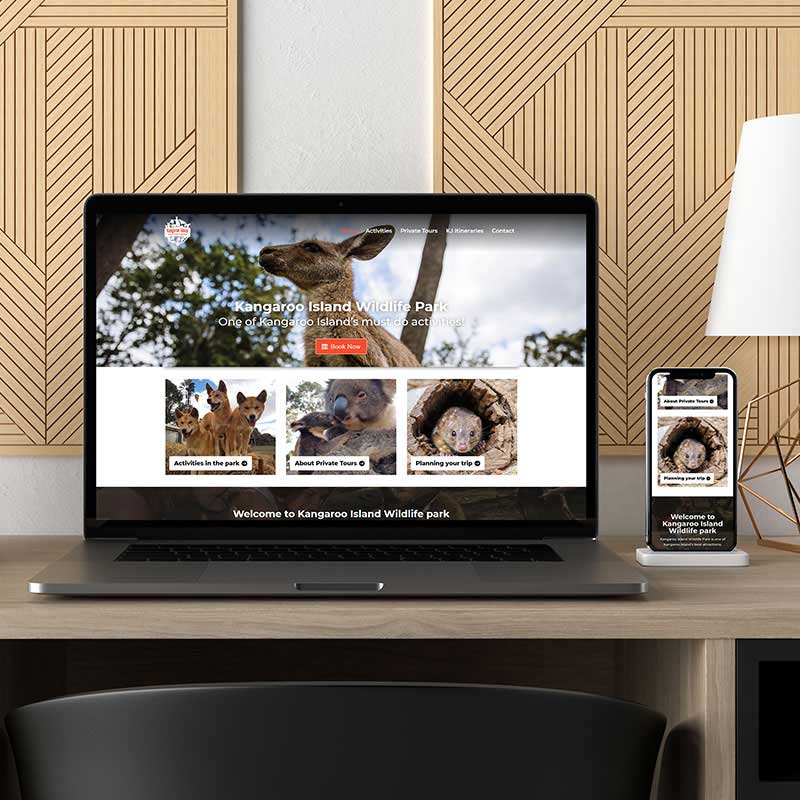 Kangaroo Island Wildlife Park
Website Design
Kangaroo Island Wildlife Park had a basic website but needed a revamp to better show all of their offerings and different tour options. Wildlife Plus completely remade their website from the ground up focusing on captivating images, powerful SEO, useful information and online booking capabilities.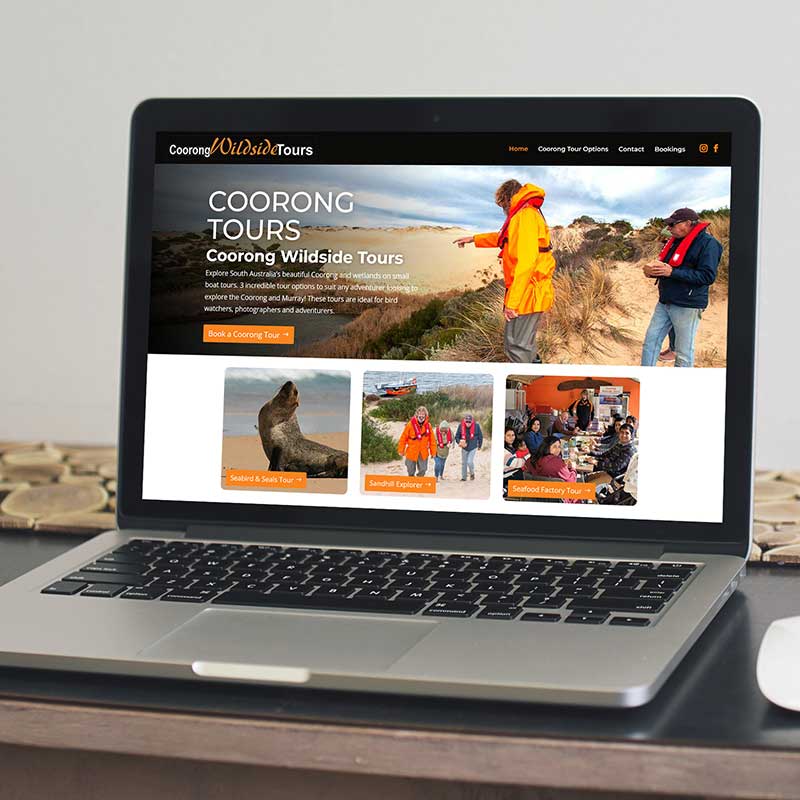 Coorong Wildside Tours
Website Design
Coorong Wildside Tours had a simple website that was not showing up on Google search. Wildlife Plus worked with Coorong Wildside Tours to perform well on Google by researching what their target audience were searching for and then performing well on those keywords through organic, unpaid SEO.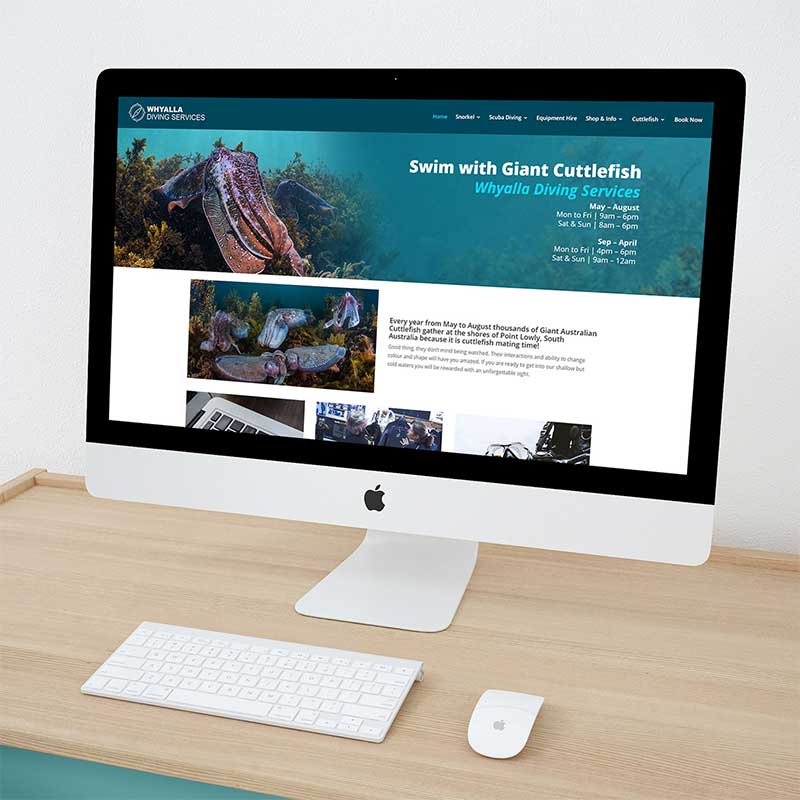 Whyalla Diving Services
Branding & Website Design
Whyalla Diving Services were in need of a new website that could take bookings, appear high up on search engines, and featured fantastic photos of the Giant Cuttlefish of Whyalla. The business has many tour options so it was important for customers to easily navigate and distinguish the different tours when browsing the website and when booking online.
What should be included in a tourism website
Tourism websites need to provide value for the people visting (like all websites should) but also present a compelling pitch on why the audience should spend their time and money on your tourism attraction. With a surgence of tourism companies growing every year in Australia, creating a website that ranks on the first page of Google and then converts visitors to paying customers is a must-do in order to keep your business alive.
Ranking high up on Google is easier said than done, but with years of experience in SEO and a proven portfolio of tourism websites that do rank first; I am confident that I can help your business with its search engine optimisation.
If your reading this then odds are you found my website due to strategic SEO practices and I didn't spend a dollar to rank well. Google Ads and other paid advertising does have its place, but I believe that tourism businesses are not fully utilising organic Google ranking strategies enough, and they're free!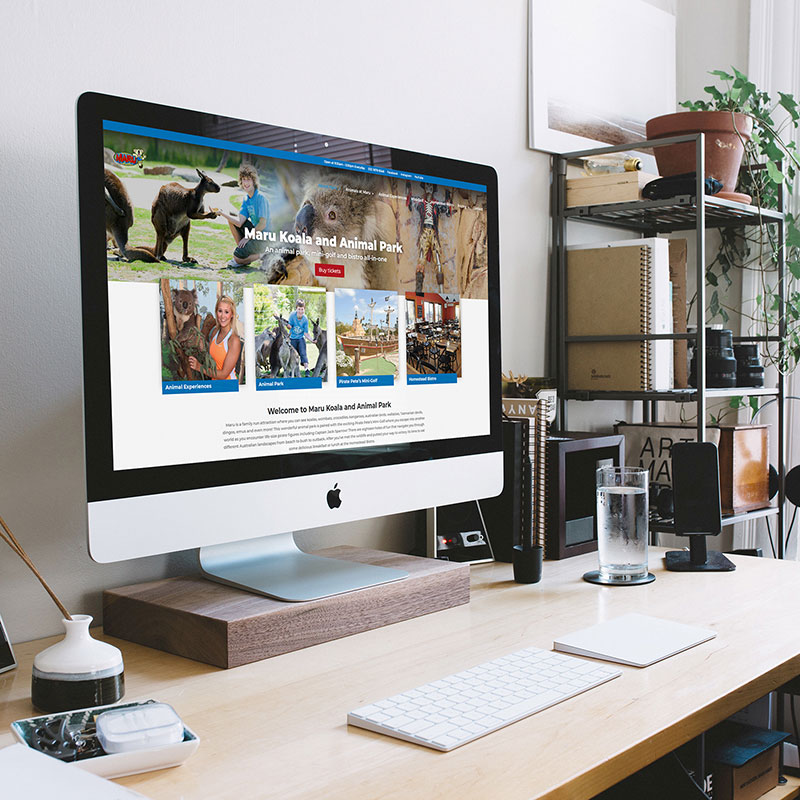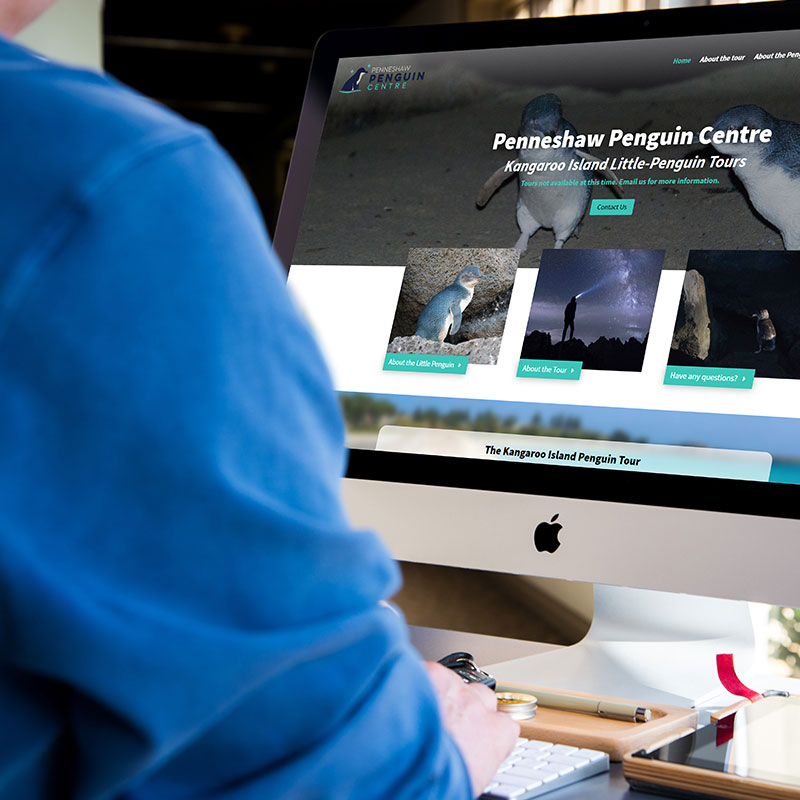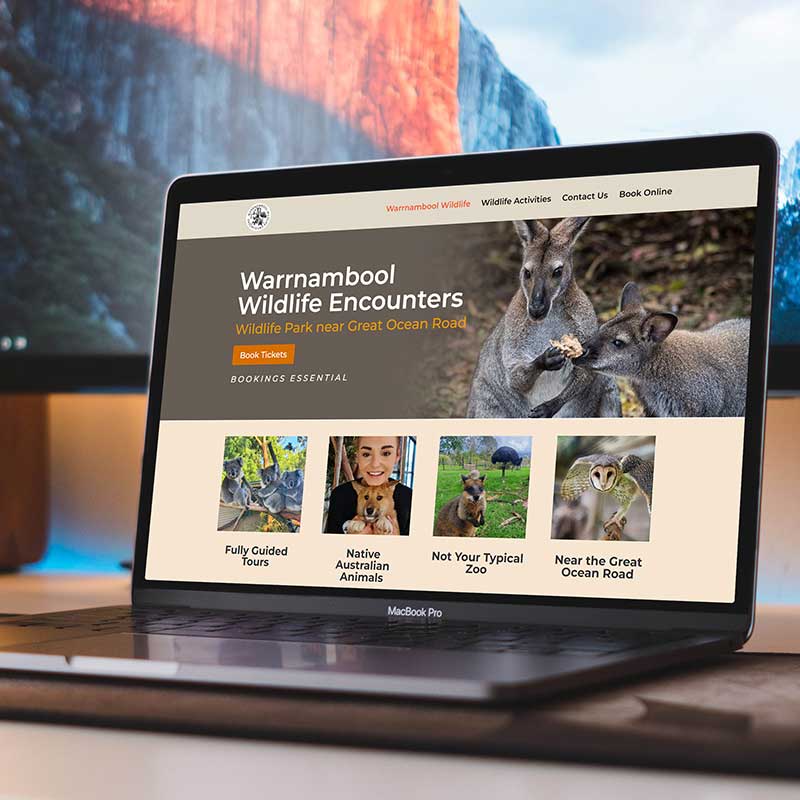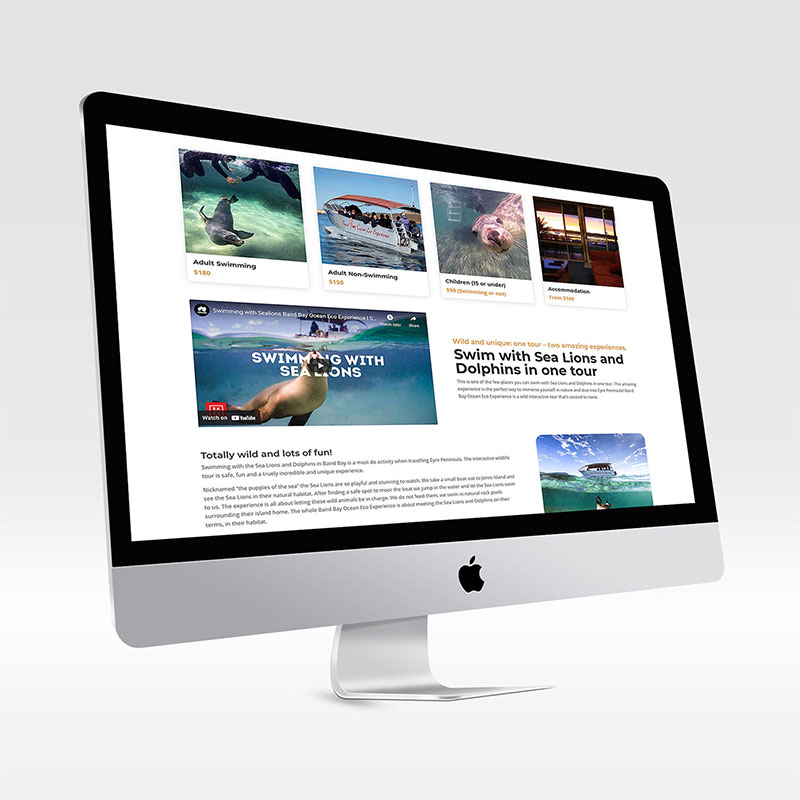 How can I create a tourism website that ranks well on Google?
There are many steps involved in creating a well performing website and I would love to help your tourism business perform better and convert more website vistiors to customers. The first step that I do is get an understanding of your business goals and target audience.
I then do research on what that specific target audience is searching for and create an action-plan aimed at targeting those people. The next step is to create the text and images for the website. We can do this step together or I am happy for you to provide this content. After that stage, I build your homepage draft that is modern, mobile responsive, created with tactical user interface design and aims to target your potential customers. After some feedback I'll create the rest of the pages, all whilst your current website (if you have one) is still up and running; meaning you won't ever have that annoying "website is under construction" text that we all hate!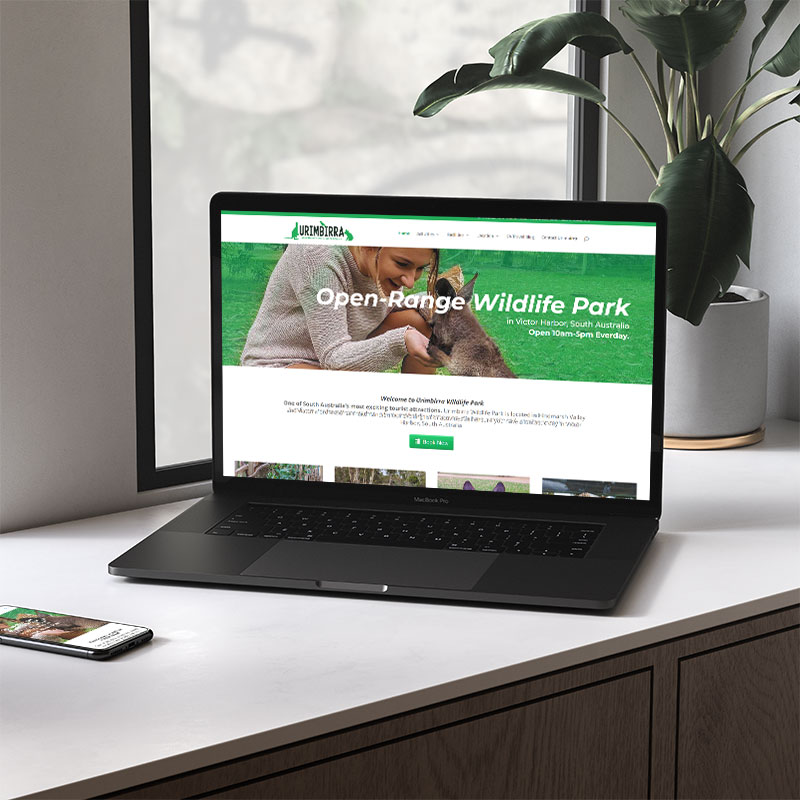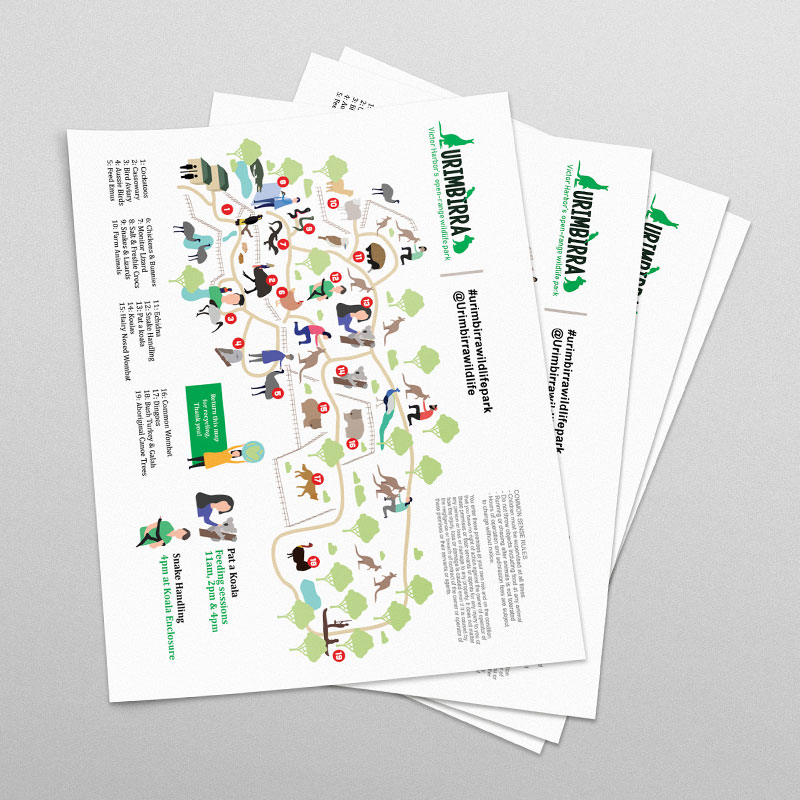 Owner of Urimbirra Wildlife Park
Wildlife Plus has gotten us more customers and created us a solid brand identity. Working with Elliot is a fantastic experience and he understands our goals.
Wildlife Website Design
Having created the websites for Kangaroo Island Wildlife Park, Urimbirra Wildlife Park, Maru Koala Animal Park and many more; I have the experience and knowledge needed when creating a website for wildlife parks and wildlife-focused businesses.
The most important attributes of a wildlife-orientated business' website is that it ranks well on Google, provides all the information that your potential customers are looking for in a well-organised website structure, and the website visitors have the ability to book online. So why are these 3 factors so important?
What makes a good tourism website
A good tourism website needs to do these 3 things very effectively;
Rank high up on Google search
Clearly provide customers information about your offerings
Book Online option for tourism tours and activities
The first component is ranking high on Google. This is not easy and Google's complicated algorithm changes every day so it's important for website designers like me to stay up to date with the latest SEO practices. If your reading this you most likely found it by searching on Google for something like "wildlife park website design" or "website design for tourism" or something similar. I work with wildlife parks, zoos, tourism attractions and tourism tour operators so it is likley that this target audience will search for something like this. Your website should operate in a similar sense; get an understanding of what your audience are searching for, then rank well on those keywords. Performing well on certain keywords is a long checklist that I undergo when making a website and through keyword research, tactical content and meta-data; I work to get your websites SEO as well-performing as possible.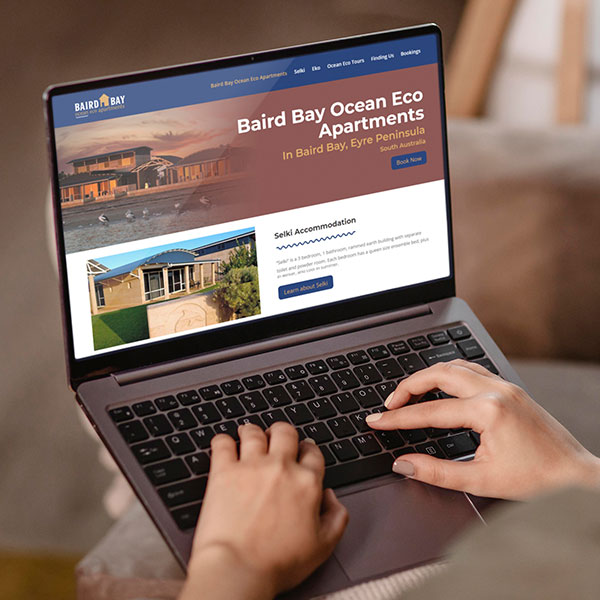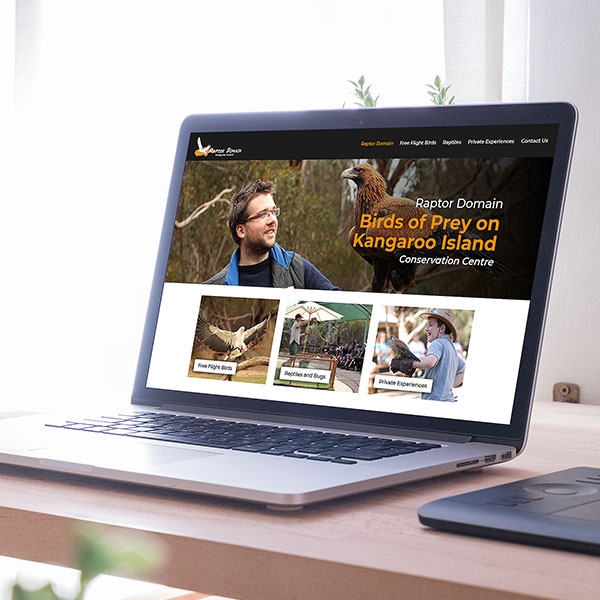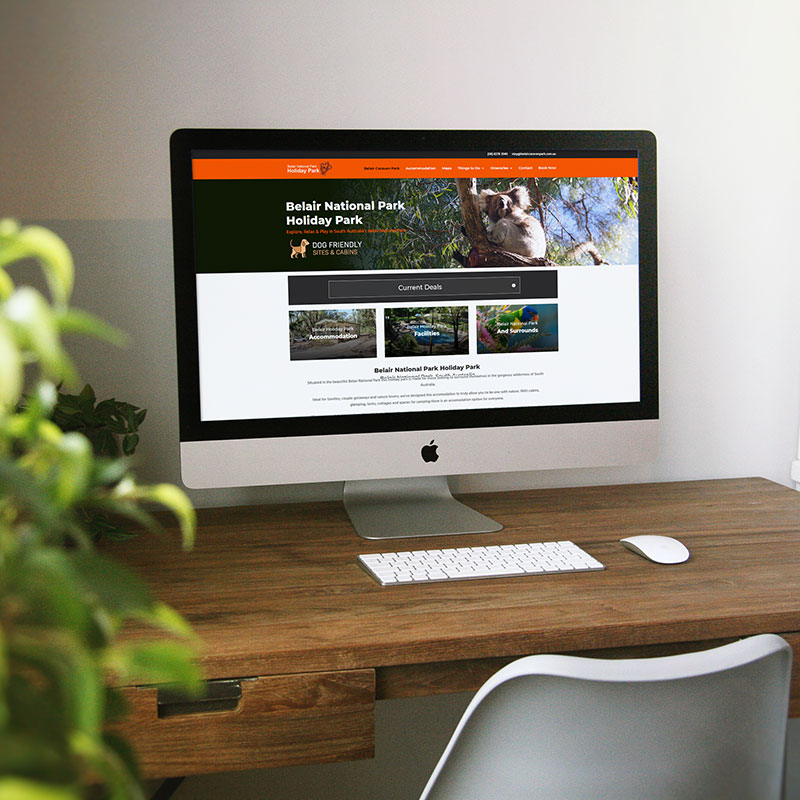 How to improve wildlife tourism website
The next step to improving your tourism website is creating a well-designed site structure that lays out all neccessary information for the customer. This is important for a number of reasons;
It decreases the amount of admin time you spend answering common questions that could be found on the website
It pleases more potential customers as not finding information that you are looking for is extremely frustrating
It will make your website rank better as Google sees that your website is providing value to its customers
So how should you strucutre your tourism website? This completely depends on the indidivual business as every business' customers will want different information. For example, a wildlife park's customers probably won't care about how weather affects the experience, but a wild dolphin swimming tour's customers will definetely want to know what happens with their booking if the weather is too rough for that day. Each tourism business requires different information on the website, but no matter the operator, the user interface and site structure needs to be created in a logical way that flows well and quickly provides ebsite visitors with the information they are after.
Tourism website with online bookings
Online Bookings are incredibly important today and almost every single tourism operator should be implementing this on your website. Why is an online booking system important for tourism specifically? If you have finally gotten your target audience to visit your website, you want to convert them to paying customers as quickly as possible. If customers don't book insantly, they might forget about you, they might think its too risky to just rock-up on the day as they might not get entry and they might believe that you are not well-established.
When booking online, customers feel comfortable knowing that they have secured a ticket on the day they wish to be visiting and it cuts down on your admin time significantly. Now when the customer arrives to your tourism operation; they have already paid online and you can even send them the park map or other important booking info during this process.
Online booking systems make the customer happy and save you a significant amount of time on admin and customer service. It's a win win! There are dozens of booking systems to choose from and when building your website we'll work together to choose one that suits your needs the best. I am not affiliated with a particular booking system company so I won't be biased on choosing a particular booking platform for your tourism operation.
Effective Tourism website design
With my long list of tourism clients that I have created effective, well performing and great converting websites for; I am confident that I can make you a great tourism website. I would love to have a chat on the phone or over email on your business and see if I can help you make a website that meets your audience and gets those website visitors to actual on-site vistiors.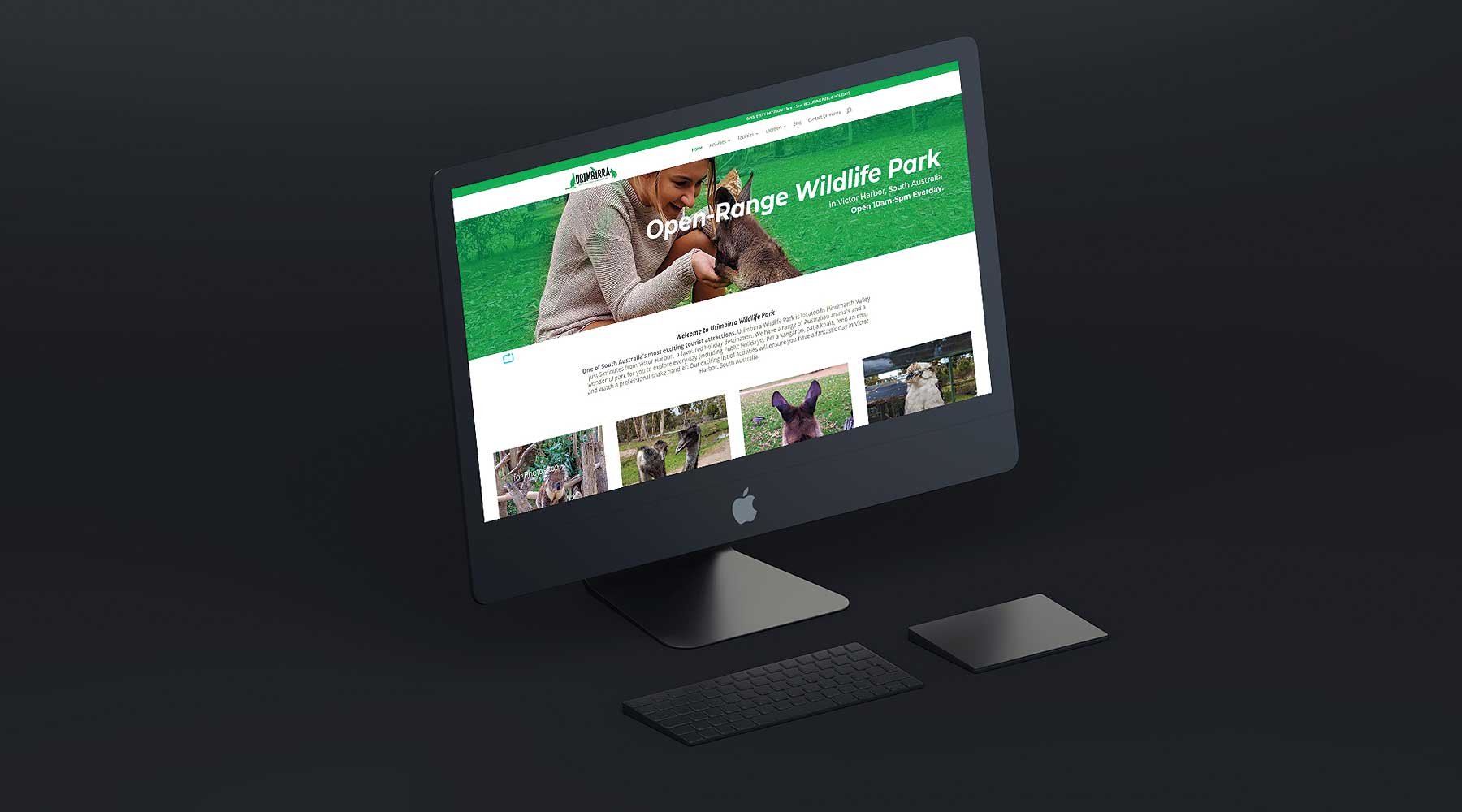 Contact Wildlife Plus for Tourism Marketing
We would love to hear about your business and if we can help with any tourism branding, tourism website, organic SEO, videography, graphic design or any tourism marketing services you may need!